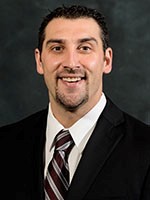 Head Coach and Camp Director - Colgate University
Greg Fargo
Greg Fargo's championship credentials are paying dividends for Colgate Women's Ice Hockey.
The Raiders are continuing their quest to excellence as the 2016-2017 has proven to be their best season yet in program history and Fargo's five-year head coaching tenure. The team has been nationally ranked for the majority of the season and are expected to make a strong run in conference and national competition.
During the 2015-2016 season, Colgate posted a 22-9-7 overall record for a .671 winning percentage. Both the victory total and percentage were program records, and the Raiders also made history by finishing fourth in the ECAC Hockey standings and hosting a league tournament quarterfinal series for the first time. The Raiders captured that series in dramatic fashion, defeating Harvard 2-games-to-1 thanks to an overtime goal in the decisive third game. That overtime tally came in the final collegiate contest played inside historic Starr Rink and further etched the storybook finish into Colgate lore. The victory also was Fargo's 50th behind the Colgate bench and boosted the Raiders into the ECAC Hockey tournament semifinals for just the second time in program history. Colgate finished 12-5-5 in ECAC Hockey and returns all 10 of its double-digit scorers for the 2016-17 season, including nine underclass student-athletes. Fargo believes 2015-16 was just the first step the program's path to championship competition.
In addition to Fargo's success with the Colgate program, he also earned kudos as an assistant coach for Canada's Under-18 National Team. The Canadians earned a silver medal in January at the 2016 IIHF U18 Women's World Championship, and Fargo continues to be an important part of the women's amateur hockey program in his native country.